DIRGE FOREVER: Golden Guillotine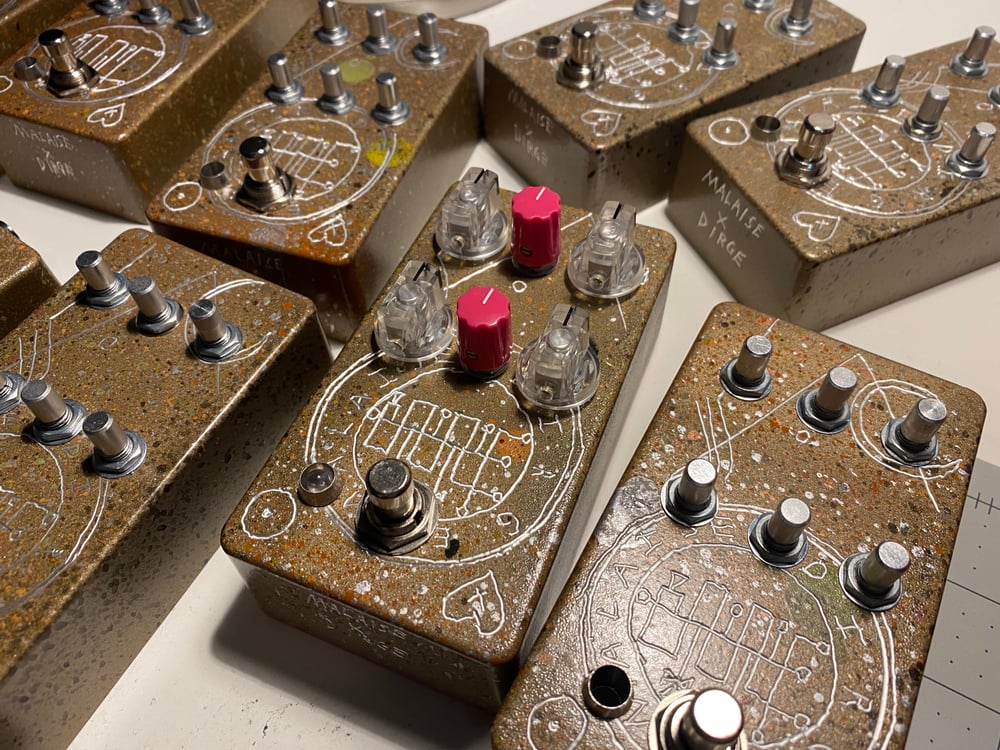 Coming September 10 at 3 PM Eastern Standard
We teamed up with DIRGE to bring you the filthiest Golden Guillotine possible. It is the same base circuit as the Golden Guillotine, with two extra controls added that starve voltage and bring out even more texture and depth to the distortion. No clipping diodes are engaged, meaning the clipping is entirely generated by the op-amp, and it has plenty of volume on tap to smash the front of any tube amp. Hand-painted and engraved by Evan of DIRGE.
Controls are as follows:
TOP ROW, LEFT TO RIGHT:
CUT: controls the amount of treble in the output signal; STARVE: controls the level of voltage reaching the op-amp; POST: controls the amount of gain from the distortion stage
BOTTOM ROW, LEFT TO RIGHT:
LEVEL: controls output volume; SMOOTH: subtly affects the overall texture of the distortion; PRE: controls the amount of gain from the pre-distortion boost stage
Also features top-mounted Lumberg audio jacks, click-free relay-based switching, and a pink indicator LED. Accepts 9v (center negative) power ONLY.